Hello guys this is Zahidul from SEOglaze. I am writing this case study on how I earned $1700 from a single website using Amazon affiliate.
The age of this site has crossed 1 year. Here I will discuss how I did niche research for Amazon affiliate site, how I did competition analysis, SEO, and so on.
Brief Information About Me
Before going to jump into the Amazon Affiliate Case Study, I would like to introduce myself. I am a full-time affiliate marketer and SEO freelancer. I provide my SEO service from SEOglaze and other freelancer networks.
I started my online journey in 2013. At that time I was searching for 'how to make money online' and I was confused by reading so many methods.
First, I started to learn Web design which was hard for me to understand. Then I decided to become a logo designer, but again I failed. Then I heard about SEO on YouTube which was very interesting for me.
Then I started learning SEO. After a few months, I got an idea about SEO and at that time I had no idea about Amazon affiliate. I started research for the Google Adsense niche site.
After a lot of research, I found an Adsense niche and after 5 to 6 months I was able to rank that site on google top 3. But unfortunately, I was not getting a good amount from Adsense.
Again start searching Adsense alternative. Please note that there are a lot of bloggers who are earning good amounts from AdSense. But I was not happy with that platform. So I decided to start doing affiliate marketing.
Yes, I did a lot of research before going to jump Amazon affiliate and I will discuss later on another post.
That I created my first Amazon affiliate site and I sold that site at $5,500 on Flippa. I will write another case study on how I flipped my Amazon niche site.
But now I will share an exact step by step guide on how I made $1700 from a single Amazon Affiliate Niche Site. So let's start.
The Amazon Affiliate Case Study Overview
Total investment: $2145 
Posts published: 60
Money article avg. length: 3000 words
Informative article avg. length: 1000 words
First content published: January 26, 2019
The income started: March 2019
Average Daily Pageview: 600
Average traffic from google: 550
Backlinks: 156 (According to Ahrefs)
Referred Domains: 82
Organic keywords (According to Ahrefs): 5.7K
Amazon Affiliate Earnings Statistics
Amazon Affiliate Website Traffic Statistics (As per Jetpack)
Amazon Affiliate Niche Selection
This is the main part of Amazon affiliate marketing. Because if you select a highly competitive niche then it will take a lot of time as well as money to get a rank on Google.
Here, I will tell you how I picked the niche and also got keywords.
To do this, open the Amazon best seller page and select your favorite category. 
Here I will pick products from the "Patio, Lawn & Garden" niche. Please note that this is not my exact niche from which I am making money. I am giving you the idea of how I picked the niche.
Ok, from here I will go to "Patio, Lawn & Garden" niche and will do research to pick the winning product.
Then I will go into the Gardening category and here I can see a lot of products with good reviews. From here I will check one by one and pick the product which will fulfill my requirement.
My Product Selection Criteria
The product should have good number of reviews
If the price starts from $10 then I will take it without any doubt. Because when visitors go to Amazon through my links and they buy products from different categories then I will get a commission of that product. And I see most of the time people buy products from other categories which I have not mentioned.
Number of products
Always go for evergreen niche/product
I don't target seasonal products. If it is a seasonal product then I must ignore. Because this type of product will sell for a certain period of a year, such as

 

Sweater, Snow Globes, Snow shovels,

 

etc.
The product must solve some problems and this type of product will in the long run.
Now once I get a product, I will start the competition analysis process.
Competition Analysis for Amazon Affiliate Niche Site
As we can see there are some words which look like good for getting a buying keyword (Weed and Grass Killer) for this product.
Now, I will search on Google by adding the 'Best' word with 'Weed and Grass Killer' to get an idea of search volume and competition.
Here we can see it has a good number of search volumes. It is a chrome extension called 'SURFER' and it is free to use.
So, this free tool helps me to understand the search volume of this keyword. Now the question is which keywords should I select as the main keyword 'Best Weed and Grass Killer' or 'Best Weed and Grass Killer concentrate'?
It is one of the most vital parts that decide whether you will rank your site within a few months or not. 
Ok, let me tell you which keyword will I pick for my niche site. 
I will use this long tail keyword 'Best Weed and Grass Killer concentrate' as my main keyword. It has search volume 110 in the USA as per SURFER.
The reason to select this keyword is that once I get rank on this 'Best Weed and Grass Killer concentrate' keyword and also get traffic from Google then I will gradually rank for the keyword 'Best Weed and Grass Killer' also. 
There might be at least one weak site such as Forum, News site, Directory site, Social media, etc. 

If we see one of our competitors is ranking within a short period of time then I must target that keyword. 

Quality of the content 

Competitors age

Competitors' article length is also a factor. A short article means it is easy to rank. 

Lack of On-Page SEO

Low Backlink profiles
You can also check out the keyword on Ahrefs which shows awesome information. 
Ok, now you have got your keywords and if you look at your competitors then you will get a lot of information for your future content. Like which keyword they are targeting, the search volume of those keywords, article length, etc. 
Now you will get a complete idea of what will be your niche and which keywords you should focus on to get organic traffic very fast. 
Domain Selection for Amazon Niche Site
The next step will be domain name selection. What types of domain should you take among Branded, Exact match, and Particle match? 
I have selected the new brand domain where I can target multiple products in a special category.
But I have seen that many people use their keyword in domain. Like if the keyword is the best kitchen faucet then they buy a domain like bestkitchenfaucet.com and it looks bad for me.
There Are 2 Things:
You can't target other products rather than faucets. Yes, you can but it will not look good and people may ignore this site.

The keyword kitchen faucet will be over-optimized and as a result, Google can hit this site at any time.
I personally used these sites to get ideas about new domains.
As I have got the keyword "Best weed and grass killer concentrate" and now I will take a domain where I will cover different types of articles related to Garden. So, I will pick a domain that will have the 'Garden' word. Like:
GardenJust.com

TopicGarden.com

CrunchGarden.com
I always prefer the .com extension as compared to .net and .org. As it looks good for me. But you can pick .org or .net extension. 
Note: I have seen many people who use the main keywords in their domain name which is not good. As it looks bad and also they will not be able to target new products as they are in too much specific category. You can also pick partial match domains like gardenpest.com.
Hosting Selection for Amazon Affiliate Site
At the very first I had hosted my site on Namecheap and their customer support is awesome but the server was not able to run my site always live, many times it has server error. This is why I had to shift the server from Namecheap to WPX Hosting. 
The WPX server is awesome for their service and customer support. The WPX comes with its own CDN server that helps to load any site within 1.3 seconds.
Once I migrated my server from Namecheap to WPX, my website loading speed improved and it loads within 2 seconds which is pretty good.
So, I recommend you to go for WPX hosting and I guarantee you will love their service.
WordPress Themes and Plugins
At the initial stage, selection of wordpress themes is quite hard for a newbie. I have seen that newbies use nulled themes for their site and they don't have any idea about the negative impact of this nulled theme. The pirated or nulled theme will help to hack the site very easily.
So, I suggest you never use any nulled theme for your money site. You can use a free theme if you don't have a budget at the initial stage. Here are the two themes which I like:
Astra
GeneratePress with GP Premium
REHub
Ok, once you have your favorite theme then you can use a premium plugin to design your content structure.
It is Thrive Architect which is used to my all sites and that helps me to create awesome content structure.
List of Plugins Which I Used in My Amazon Affiliate Site
Thrive Architect
Thrive Clever Widgets
WP Rocket
Ninja Tables Pro
Rank Math SEO
ShortPixel Image Optimizer
TinyMCE Advanced
Recent Posts Widget Extended
Content Structure for Niche Site
It is also an important task for me to show my article in the best way so that I can maintain the bounce rate as most of the affiliate sites come with a high bounce rate because the visitor will go to Amazon by clicking the affiliate link.
I follow this structure for my money article.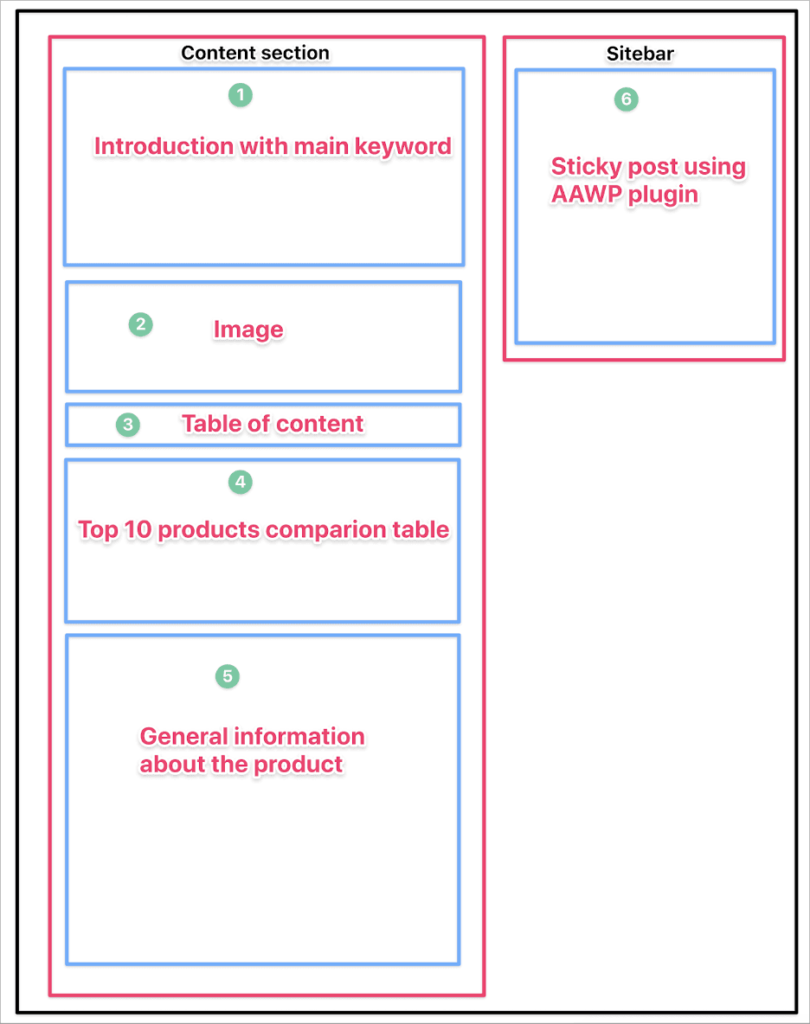 Many people ask how much will be the article length for the money keyword. This is quite easy for me. Because I always follow my competitors. If my top 5 competitors provided 3000 words articles then I will write more than 3000 words.
For informative articles, I always publish more than 1000 words. Sometimes it goes beyond 2000 words that depend on the topic. 
I always upload my article as a draft and do on-page SEO. If you find the best and low competitive keywords then your 70% work completed. I told you that keyword research is the main part of SEO.
So, I will start my on-page optimization process using the main keyword and related keywords. For my all sites, I use the main keyword in Title, description, H2, Image alt tag, and meta description.
I collected the top 10 related keywords from my competitor sites and used them in my article in a natural way. I never used the main keywords more than 3 times within the article. If possible then I also add a YouTube video that looks good. 
Interlinking is also good for ranking. I read the complete article and interlink with another article with the best keywords. 
Note: You can also provide these instructions to your writer who can also help you to provide you with an SEO optimized article. For my money site, I always hire Native writers from Upwork.
Once I publish the article with proper on-page SEO then I will leave that article for indexing and it takes 4-5 days, sometimes more. I always take such keywords that rank on Google's 3-4th page after indexing the article. 
Now, I can start doing my link building part as Off-page SEO. 
At the very first, I start with foundation backlinks like web 2.0, contextual backlinks, forum, profiles, expired tumblrs, etc. 
Here, the Ahrefs plays a big role. I took my competitor's URL and found their link profiles with the help of Ahrefs. This is an amazing tool that reduces my lot of work. I can find my competitors backlinks as well as keywords, anchor texts, etc. 
Now, I have my list of backlinks and what I will do is open all the links one by one to know the quality. If I see the backlink has good authority then I will try to replicate that link for my money site.
Now finally, I created my own network of niche sites using the Expired domain. This is one of my best link building techniques. 
I start my domain hunting process to get a high quality expired domain. The domain had a min. 20 high authority backlinks from Forbes, NYtimes, BBC, etc. I always try to find a domain that is related to my niche. 
Once I found 20 domains then I registered with different domain register sites and also hosted them in different sites. After that, I publish 5 quality content related to my niche and let them index on Google. After indexing those posts on Google I take a single link from a site. So, I took a total of 20 links to my site.
After a few days, my website ranking increased and because of these high authority backlinks. 
So you have got the idea to create a good Amazon affiliate site. If you are a newbie and starting after reading this article then I suggest you spend more time on keyword research. It is the 1st and probably the ultimate step for a successful Amazon affiliate site. So, do smart work from now with the help of my tips and share your success with us. Best of luck!