So, you're a landscaper, am I right? Again, you have enough confidence that you have been doing good, even best in your business. OK, then you must be looking for an online marketing platform so that your business can be flourished and at the same time you want your company will be included in the same bracket with some other top leading companies in the landscaping business. 
Well, if that is so, I mean to say if you wish to take your company to those maximum numbers of people who are really interested in people like you, then SEO is the key that can help you by opening a vast market field where you can reach more potential clients online.
Being a landscaper you don't need to have some idea about SEO. Instead, you might have been unaware of when and where you should start this affair. Confused? Don't worry!! SEO for landscaping is not as complicated as it seems. In this article, I am going explain to you everything regarding SEO for landscapers from the best of my knowledge, and I hope this can provide you with everything that you need to know and even more than that.
Let's begin with the contents you're going to find in this article. Here you go-
1. Why is SEO Important for Landscapers?
It's not rocket science to understand that a business always needs a good marketing strategy to thrive. In old days people who run a company always go for its advertisement through print media and then audio-visual mediums (radio and television). But since the e-media enters heavily into our life, things have started changing drastically. Now people prefer e-marketing or e-business by making their own websites to reach a large number of consumers without much effort being taken by them.
Here comes the worth of SEO. SEO stands for Search Engine Optimization. This is Google's way of ranking SERPs or search engine result pages so that the most relevant information about your company can be appeared on the first pages along with some other leading companies. It's a set of practices that is precisely designed to optimize your web pages and helps to reach among the top in the organic search results of Google and other search engines.
SEO works efficiently for you to create long-term brand awareness, provides you with all necessary support to reach a maximum number of target audiences, and along with earns you good revenue by flourishing your business to the next level. In short, SEO is a great medium for improving the quality and quantity of traffic to your website for free which means you don't have to spend a lot of money on advertising. Now it's time to know in detail why SEO is important for you. Let's go-
Organic Search Provides The Most Website Traffic
This is the prime reason behind the importance of SEO for your business. It works for earning free website traffic from different search engines like Google, Bing, and Yahoo. But comprising to other search engines Google owns a larger portion of the overall search market to visit the maximum traffic. In this way, SEO comes very effective for small businesses, start-ups, and even large companies. Research reveals that 53% of website traffic comes from organic search.
Improved Visibility Helps to Find Your Website​
This is perhaps one of the most vital functions of SEO is improving visibility. This is directly related to your ranking. Improved visibility makes it easier for prospective visitors to find you when they are looking for something that you can offer. The more you rank high on a SERP, the more visitors can see you and then click through your site. Better visibility is the key to improve your organic paper ranking.
Building Trust and Credibility
An experienced SEO always looks for a better and more beautiful website using a visual illustrations that can create a great impact on the visitors mind. This will certainly help to draw more consumers to your site only to flourish your business. In this way, the trust and credibility of your brand might increase with time and you have to keep patience, stay at your commitment, and maintain the quality of your product or service to allow customers to trust your brand.
User's experience is perhaps one of the biggest parts of achieving maximum visibility and better organic ranking. A positive user experience that comes with all relevant information about your brand might help to encourage more visitors to your website which comes useful for promoting your brand.
SEO is a good marketing way that not only works efficiently to bring more and more visitors to your site but also doesn't cost anything like some other marketing strategies such as pay-per-click. This certainly is a great advantage that search engines work 24X7 to help you find customers organically at any time of the day.
SEO Keeps You Ahead of Competitors
If you see your competitors already have invested much in SEO to outrank others and gain market share, then the situation demands you to follow the same path. But having SEO on your side may be a great benefit for you. SEO can help you to analyze your competitor's strengths and weaknesses and then you can create and manage your website to attract more visitors by eclipsing your competitor's efforts.
SEO's role has gradually become bigger over the past few years. It helps the customers to find the right brand and on the other hand, it provides a good business for your company too.
2. What is Google SEO for Landscapers?
Although the landscaping business depends a lot on manual efforts, it still needs a website to achieve your desired success. These days people who wish to do landscaping work at their places go for online searches to find a suitable company that is an expert in its profession. I am sure you are one of those companies that have a lot to offer. The right SEO can increase visitors to your landscaping company's website and brings more sales. Only you need to select the right and relevant keywords, and then you'll find more and more organic traffic for Google as time goes on. In this way, your website can appear high in ranking on the SERPs and that also at a very low cost.
3. How to Do Technical Website for Landscaping?
As I have said earlier, even a well-executed landscaper also needs a website to reach more potential clients. But here comes the worth of a good website design to attract people's attention. This is called a technical website which includes a few things. Such as-
The homepage is the first impression for a potential client that helps him to get a glimpse of your landscaping business. In fact, the homepage is a kind of virtual store where a client gets some basic information about your landscaping business, it can be considered as a showcase where a visitor can see all the exciting designs previously done by you.
Not only your previous work, but through your website you can also present some fresh and exciting ideas that you can do if you're offered. Besides, you can even explain and elaborate on how you have done all the previous projects. Apart from landscaping, there are some off-season jobs such as lawn care, pruning, trimming, gardening, that can be done by you the best of your ability.
Customer reviews are one of the key factors that make a prospective visitor select one between you and your competitor. If you project the best reviews on your page, it'll surely bring more clients to get your services.
4. Finding Relevant and Targeting Keywords for Landscaping
Engaging SEO for your landscaping company is not everything that you have done to uplift your business. Unless you have some exciting, relevant, and target keywords in your kitty, you won't get enough organic website traffic from Google. Once you optimize your website with some catchy and perfect keywords, your website might have been visited by more and more progressive customers.
Here are some relevant keywords for landscapers –
5. Optimize Title Tag and Meta Description
Title tags and Meta descriptions are the two things that help the Google search engine to find what you're looking for. The title tag shows what your web page is up for.  And Meta descriptions are precisely the short summary of the content on the website which allows the reader to know what could be written in detail inside. As for the landscaping business these two things are needed for the progressive clients to search for their desired things.
6. Google My Business Profile Listing
Google My Business is very important for Local SEO. By doing a free GMP listing, your website visibility and potential customers will increase significantly. Not only that, but it also provides valuable information to your customer like contact information, business hours, and also customer reviews.
But you have to optimize your GMB listing using keywords. If you optimize the listing in proper way then your organic ranking will improve.
7. Creating Exciting and Catchy Contents
Content is the most vital for any website marketing business as it provides all necessary information about your landscaping company to the visitors and helps them to select the right one for their own. Creating new content that is unique, well-written, and creative, and using most of the target keywords for your website is always been a smart idea and in this way, your landscaping company can make a positive impact on the visitor's mind.
8. Maintaining Mobile-Friendly Website
Most people even you, as well as myself use their mobile phones to order products or services. Therefore, these days you always need to have a mobile-friendly website for any kind of business including landscaping. As a mobile phone doesn't have a bigger screen or space to display the whole matter largely or in detail, therefore, the website content should be designed and presented in different ways so that the customers can easily enter your website through their phone.
9. Providing Information About Your landscaping Company
SEO is not only about providing necessary descriptions about the brand of a product or service. This also focuses on your personal whereabouts. For example, a progressive consumer not only goes with the quality of the product but also wants to about your name, your residential status. and then your office or workshop. This is an important thing that assures a consumer that the company or the proprietor of the company is always there for their service.
Have a look at this page of your competitor site: fastactlandscaping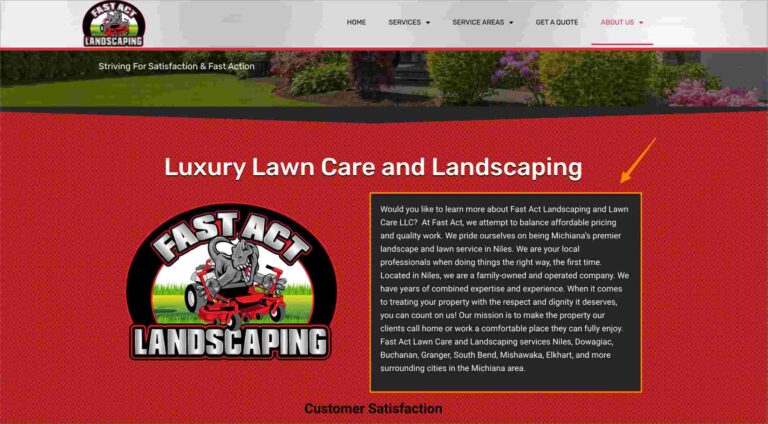 In todays world Social Media activity is very important. In not only improve your company reputation but also new people will engage day by day. Here are some major benefits you will get if you do Social Media Marketing properly:
Increase brand awareness: Social media like Facebook, YouTube, Pinterest, etc. allows you to reach a larger audience and increase your brand's visibility within a short time. But make sure you are share valuable information on those platforms.
Connect with customers: Nowadays Social media platforms helps to communicate with old and new customer very easily. It helps to build a community around your brand.
Boost website traffic: Social Media traffic is also a ranking factor on Google. If Google see that your website getting a lots of traffic from Google for a post or page then the page will rank fast on Google a well. As a result, conversion and sales will increase.
Free Social Media marketing: Most of the time you don't need to spent any single $ to get traffic from Social Media platform. The free method is also good to start. Let's have a look at the image bellow.
This company providing Landscaping & Tree Service on Texas. You can see they are posting valuable information on Social media and it helps to build trust among for their company.
So far we have discussed SEO or Search Engine Optimization and its successful involvement in the landscaping business. In this article, it has been proven that these days you have to manage your business as the time demands. In most cases, people have a least time to deal with professionals directly. 
Therefore, it's the website marketing that has already controls almost the entire business system all around. No matter how small or big your business is, in every case, the website is there and SEO is an integral part of this whole system that acts as a bridge between the service provider and the consumers. Landscaping is also very much included in this system. So, all I can say is if you're serious enough to take your landscaping business to the next level you must take it through SEO. Good Bye!!!