So, you own an auto detailing business and would like to market it to ensure you don't run out of clients? Spice up your website and brand by learning how to do SEO for car detailers. 
Working in a large industry like the automobile industry has you dealing with one of man's prized possession, cars. People buy cars every day and think of the best ways to modify them to suit their tastes; hence, a trustworthy car detailing service is what they need. 
Earning the trust of potential clients is essential if you want a thriving business, and you can achieve that by gaining more online presence and reaching your target audience. 
Looking at your industry, you must have realized that building a website for your business and having an active online presence isn't enough. Search engine optimization is highly recommended to reach more potential customers and get the best out of your business website.
You know how they say, 'It's not how far but how well'? It applies to your website because it is not about the period you've had it, but the car detailing leads you to get it. Remember that effective on-page SEO is important for your business and evolves. 
Invest in car detailing SEO for excellent website traffic, better ROI, and higher conversion rates for your mobile detailing company. This article will explore every aspect of SEO for your car detailing company to help your business become stellar. 
About Car Detailing and SEO
Before going into the SEO needed for car detailing, it is important to know about the industry. Car detailing involves cleaning, revamping, and giving a shine to cars at the client's location. The process of detailing and finishing proves that quality cleaning and polishing can make an automobile look better than it was. 
Recently, auto detailing has been done on the interior and exterior of the cars based on the client's needs. The interior detailing involves deep cleaning with a vacuum, leather cleaning, and upholstery stain removal. The exterior detailing involves cleaning and reviving the car's tires, wheels, trim, windows, and paint. 
Car detailing SEO involves optimizing your website for its infrastructure and content for more website traffic and conversion rates and to rank higher. This process is done to get the website ranking on the first page of Google, Yahoo, Bing, and other platforms' search engine results pages (SERPs). 
The visibility of your car detailing website can improve by optimizing the site for SEO. When your target audience searches for detailing services on search engine and visitors are moved to keep visiting your website, you know that optimization is taking place. Through keywords and optimzed content, website visitors can be generated organically. 
Importance of Auto Detailing SEO 
Individuals get detailing services through referrals/recommendations, social media, or search engines like Google. The most popular and most used among these is the search engines. Car detailers who optimize their website for search engines will get potential opportunities for organic ranking to reach more audiences, influencing and interacting with them through their content and services. 
Facebook is a recommended app for reaching an audience for social media, as its paid advertising service is rewarding and beneficial. However, searching online for your desired services is better than using word of mouth (recommendations) and social media. 
Optimize your site by SEO for opportunities like enhancing your ranking on search engines, link building, and converting leads (customers) to paying clients by moving them with your content and building trust. 
Step-by-Step Detailers Roadmap to Do SEO for Car Detailing
Achieving the ideal results with search engine optimization in your detailing industry involves taking the following steps:
This is the fundamental part of a thriving SEO strategy. You can optimize your website content by recognizing relevant phrases and keywords that potential clients might use to search for car detailing services. Use SEMrush, Google Keyword Planner, or Ahrefs to efficiently get relevant keywords with less competition and specific client requirements. Keyword ranking is crucial for website visibility. 
Now we are going to see how to select the low competitive keyword for your business. Let's assume we are going to target our business on Nashville region. 
So at the very first we have to know who are our competitors. To know that we have to go on Google. To get a rough idea we are going to search "Car Detailing Service in Nashville" keyword on Google. After that we can a good number of competitors on 1st page of search result.
Once we got our exact competitor then we will start digging them to know what types of keyword they are targeting, how many content they have published on their blog section, the silo structure, how many entity and attribute they have covered and more more.
Tools to use for Keyword research and Competitors Analysis 
We mostly use Ahrefs and sometimes SEMrush to do keyword research. For this content we are going to use SEMrush to do keyword research.
In the above image, we can identify who are our competitors. Also we can ignore those sites which are different or targeting other keywords.
Now we have a list of competitors and we will check them one by one to know the keyword that they are targeting & also ranking on Google.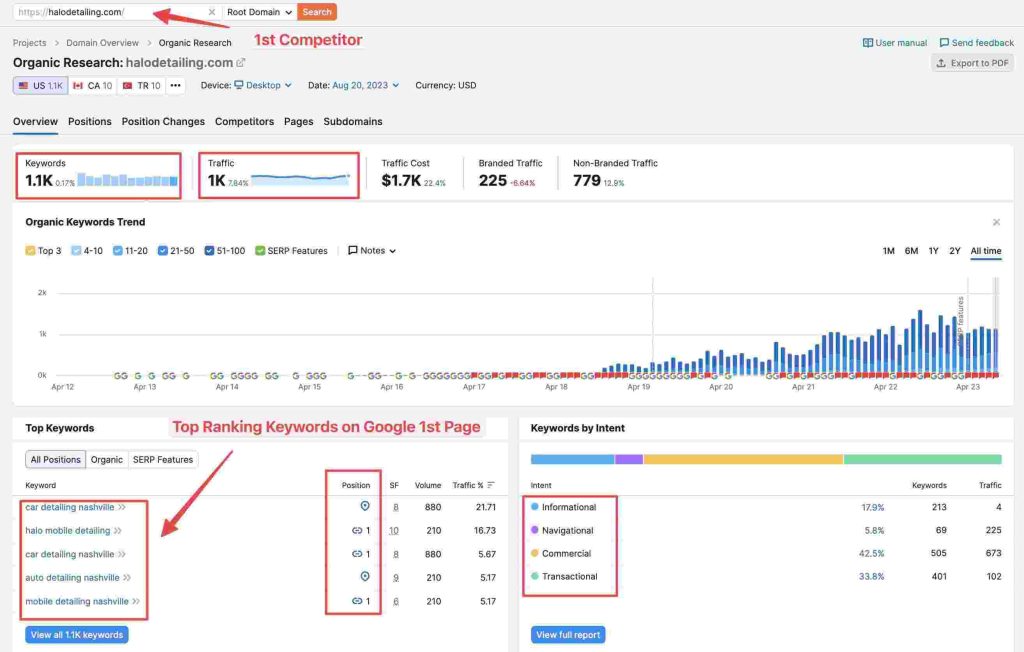 On the above image, we have taken 1st competitor and opened on SEMrush. It shows the site is ranking for more than 1.1K keywords and also getting 1K organic traffic from Google US. So this is clear that the business owner taking the benefit of ranking their site on Google's 1st page with 1st position. 
If we look at the image carefully then we can see that the site targets 17.9% Informational, 5.8% Navigational, 42.5% Commercial and 33.8% Transactional keywords.
So after doing 1st competitor analysis we got an idea what types of keywords we should target most. As per this competitor we should target Informational keywords first, as these are easy to rank as compare to other keywords. 
In the similar way we have to check all the other competitors one by one and I hope you understood how to do that. 
Ensure your web pages are optimized to improve your search engine rankings by including titles, meta descriptions, headings, and content. For your car detailing business, you must properly structure your web pages for easy navigation and ensure they have keywords relevant to your business, like 'car detailing, auto detailing, cleaning, polishing, and restoring.' 
So far we have got idea about keyword from our competitors site. Like previous, we are going to target "Car Detailing Service in Nashville" keyword and also going to optimize. Before going to optimize we need to know few things. There are related keywords, secondary keywords and most important thing NLP terms. 
We can get Related and Secondary keywords from SEMrush but for NLP we have to go to another tool like SurferSEO, MarketMuse or NeuronWriter.
On the above screenshot was taken from MarketMuse dashboard. After using main keyword and competitor URL, the MarketMuse shows the following metrics. Those are the NLP terms that Google want to have content. So, our goal will be to target such NLP in our content.
Please note that you should not use more than the tool suggest us. It may be SurferSEO or NeuronWriter, the strategy will be same.
As per MarketMuse, we should use main keyword "Car Detailing Service in Nashville" min. 1 time and max. 2 times. So you have to be careful about that. If you use more then it will look unnatural and Google may hit the site.
Now we have got our main keyword, seconday keyword and NLP terms to use in our content. Create high-quality and informative content about car detailing and information surrounding the topic. This could include articles, blog posts, and how-to guides. Incorporate your target keywords naturally into the content. Occasionally create new and unique content, make it creative and properly written so your business can positively impact the audience's mind.
Make Sure Your NAP is Consistent
The NAP is a short form of Name, Address and Phone Number.
This is very information for a local business. Without this the local business will not look real in Google eye as well visitor. So make sure you have used NAP in your site in such a way that people can easily see that. It may be the footer section or header section of your site.
List your business on local directories and review sites. Ensure NAP (Name, Address, Phone Number) consistency across all platforms.
H tags and meta description
Incorporate primary keywords in your website's page title tags and meta descriptions. These elements appear in search engine results and can influence click-through rates.
Use headers like H1, H2, H3, etc., to structure your content and make it easier for users and search engines to understand the information hierarchy.
The title tag(H1) gives information about what your page is, while the meta description is a summary of the content on your website that gives brief information on the actual content of your webpage. Make sure you have used the main keyword on Title and Meta description.
Schema markup is a very important factor for Google's search engine. If we use the proper schema then Google can easily understand our site.
The local business schema comes with important information like business address, phone number, working hours, number of reviews, types of service, etc.
The main content areas you want to focus on include:
@type (Most of the time Local Business works if your specific line of business is not represented, but ideally you'll be as specific as you can be)
image (banner type of image)
telephone
name (of company)
logo (company logo)
description (of your company and your offerings)
openingHours (your hours of operations)
url
sameAs (this is a great place to list out the other social properties that support your business)
geo (your longitude and latitude coordinates)
contactPoint (you'll enter the contact information for your point of contact)
address (you'll enter your physical address of your location)
Get more information from Google where everything has been discussed.
Note: This is a completed work most business owners make some mistakes here. But one easy thing is there. If your site is based on WordPress then there has a good plugin called 'WP SEO Structured Data Schema' where you can create Schema. After that you should test your local business schema via the Google Structured Data Testing Tool to make sure everything is showing up properly!
Internal link is a tactic to do hyperlink from one page to another page within your domain. Suppose you have written content on "How to clean a car?" and somewhere in this content you are going to hyperlink your other page "How to select a best car detailer?".
Here are some benefits of internal linking:
1. It will enhance user experience
2. There will be a good chance to convert a visitor into a buyer
3. Silo structure will be strong to crawl Google bot easily
4. Help to rank your targeted keyword fast
Given that car detailing services are location-based, it is vital to use local SEO for auto to attract clients in your immediate area. Your business should optimize Google My Business listing and get online citations and reviews from creditable local directories to increase the visibility of your business in the local search results. 
Claim and optimize your Google My Business listing to ensure information like operating hours, phone number, and addresses are updated and accurate. This listing will help your Google business profile gain visibility and reach your target audience and potential clients. Optimize with keywords and do it properly to improve organic ranking.
Local citation
List your business on local directories and review sites. Ensure NAP (Name, Address, Phone Number) consistency across all platforms. 
Local content
Create content that is specific to your local area. This could include references and local keywords.
Most individuals are likely to research with their phones rather than a laptop or desktop; hence, optimizing your website for mobile devices is vital. Your website must be mobile-friendly enough to provide visitors with a smooth browsing experience. Optimize the page load speed by implementing intuitive navigation and using responsive design. This optimization improves user experience and impacts search engine rankings. 
The load time experienced by a user while opening your web page will be used by the search engine to determine your page speed and quality. Technologies, storage space, and images affect the website, but the page speed can be checked with tools. If any issues are discovered, they can be easily fixed or improved. 
Adding relevant images to your work is an optimization process you should not ignore because it improves your website's performance in search engine results. Carefully choose those images because they can positively or negatively impact your reader's mind. Images are visual explanations that give the audience a better web page idea. Optimize the image size, name, and file because your page ranking can be impacted by it. As a car detailer, this is a must-do because it creates a better impression of your business and website. 
Your page ranking dwells on relevance and authority;  technical SEO, keywords, and excellent content will improve your site's importance, but backlinks will give it popularity and relevance.
Links are references used in your content and refer users to other sites. When someone mentions your content on their site, you gain a backlink for your car detailing website. The act of gaining links is called link building.
Before you can rank, Google will use the quantity and quality of our referal links to determine the authority of your site. Ensure to add links from authority sites with similar topics, trustworthy domains, and popularity. It can be obtained through outreach, competitive analysis, guest posting, profile links, and referencing of your site content.
As there are different types of link building methods and you may ask which is the most effective method to get maximum result. We, we are mostly use Guest post outreach in two different ways. 
1st we do competitor research and see from where they have got links. After that we start reaching out to those website owner to take link like our competitor did. Most of the time those website owner want some fees to provide link and we are happy to invest for quality links.
2nd we do search on Google to find good quality sites that is related to our website. After few communication we can get links from those sites.
This link building strategy is very much effective and also need a lots of time with proper knowledge from which site you take link and where you don't.
SEOglaze offer premium Guest Post Outreach service within a budget. Visit our page to know more information.
Business owners are advised to leverage the power of social media digital marketing because they can help generate leads, drive traffic to your site, and build customer relations. Social media marketing platforms like Instagram, Facebook, LinkedIn, and Twitter are best for promoting your car detailing services because they act as ranking signals for Google.  
Encourage your customers to leave reviews and testimonials on your website. Positive testimonials and customer reviews will significantly impact your business's visibility and reputation. If satisfied customers leave positive reviews on social media, Yelp, and Google, your local SEO will be boosted effortlessly. You should also respond promptly to reviews and address customer feedback and concerns.
Technical SEO Technical SEO
SEO is not just about keywords and content; it has a technical part that should be optimized. Technical SEO is optimizing and evaluating various aspects of your site for search engines to index and crawl easily and provide spectacular user experience and appropriate results.
An XML sitemap is a structured XML file that outlines your car detailing website's important pages, assisting search engines in efficiently crawling and indexing the site. It includes URL details and attributes like modification dates and priorities, aiding search engine bots in discovering and ranking content. By submitting the XML sitemap through webmaster tools, website owners can optimize their site's visibility and ensure prompt indexing of new and modified content, ultimately enhancing their search engine presence.
The robots.txt file in a website's root directory instructs search engine crawlers on which pages or sections to avoid indexing. It utilizes directives like User-agent to specify the bot and Disallow to indicate restricted content, such as Disallow: /private/ for a particular directory. The file can contain comments using #, and advanced applications include permitting select sections with the Allow directive.

Testing and updating the file periodically is important to prevent accidental exclusion of significant content. While robots.txt can influence crawling, it doesn't guarantee invisibility in search results if linked elsewhere, making meta tags with no index or password protection relevant for sensitive content. To prevent unintended blocking, proper syntax, and careful management are essential for effective search engine crawling control.
An SSL (Secure Sockets Layer) certificate is a digital certificate that ensures a secure and encrypted connection between a user's browser and a website's server, safeguarding sensitive data and establishing authenticity. This encryption, signified by the padlock icon and HTTPS in the browser's address bar, boosts user trust, protects against data breaches, and positively impacts search engine rankings.
SSL certificates come in different types, require regular renewal, and necessitate the transition of all website elements to HTTPS to prevent mixed content issues. An SSL certificate is essential for data security and creating a credible online presence in today's digital landscape.
Use Google Search Console, Google Analytics, and other specialized SEO platforms for effective auto detailing SEO. You will understand your site's strengths and weaknesses, user experience, optimized content, and marketing strategy through regularly assessing metrics such as conversion rates, keyword rankings, user behavior, and traffic sources.
Make informed decisions that will improve your car detailing business online visibility, improve user engagement, and achieve long-term SEO success by generating regular reports, evaluating competitor strategies, and tracking backlinks.
Today's digital scene is quite competitive and demands business owners to have an edge over others if they want their businesses to thrive. Search engine optimization is one way to have an edge over others in your industry. Auto detailers who implement SEO services for car and strategies like content marketing, link building, mobile optimization, keyword research, and so on will have great brand awareness and online presence. Do not forget that PPC and ads also help to improve visibility, but you have to pay for them. Remember your ranking factors when you decide to use some SEO strategies for your car detailing business.