Hi, today we will discuss how to do SEO for your dog trainer website. Everyone wants to rank their site on Google quickly to get free organic traffic. Whether you are an owner of an old dog training website or want to create a new site, the main goal is the same. So without any further talk, let's get into the topic.
SEO is a part of On-Page SEO and Off-page SEO. In On page SEO, the keyword is the most important thing that you have to remember every time. It will work 70% of SEO. But if you select the wrong keyword then you have to wait for a long time and invest a lot. On the other hand, backlinks are the major parts of Off-page SEO and they will work the rest 30% of SEO. So, Keywords and Backlinks both are ranking factors in SEO. But there are more factors in SEO and we will discuss them one by one. 
As per our experience most of the time you don't any backlinks if you select the right keywords. Now we will discuss each and every point step by step to do seo for dog trainers.
On-Page SEO - First Step to do SEO for Dog Trainers
If you're planning to run a website on Dog Training, you might know that On-Page SEO is one of the most important elements of your 1st-page ranking on Google. Without proper On-Page SEO, it will be tough to rank and draw in the right eyeballs to convert your visitors into customers. That's why it's so important to select the right keywords and create quality content by following them. Now we will discuss how to do On-page SEO in the best way.
1. Find Longtail Keywords to do SEO for Dog Training Website
I have already said how important a keyword is for ranking. The more long-tail keywords you use, the less competition you will have. It is true that long tail keywords are search volume keywords than short keywords. We will also show you how low search volume keywords can generate a lot of traffic for a Dog Training site.
Let's have an example. If you search for "Dog Trainer Houston" then you will see this result.
As you can see those 3 sites which we have mentioned are your real competitors. Now we will start researching this keyword to get longtail keywords. Please note that the competitors might be changed after a few days of publishing this content as it depends on Google.
Now go to Ahrefs to find some long tail keywords on the Dog Trainer niche.
The search volume is 30 and keyword difficulty is 27 as per Ahrefs. If you use SEMrush then the result shows some difference.
Now we will put one of our competitor URLs to Ahrefs to check how many keywords they are ranking for and from there we can easily get long tail keywords.
We have taken "puptownhouston.com" to check on Ahrefs.
Depending on the availability, we can select "dog obedience training Houston" as a long-tail keyword.
The first keyword "Dog Trainer Houston" shows low search volume and KD is very high. It is not always true. Because this keyword has a lot of potential and can generate a lot of traffic. Because when you will start ranking on this main keyword then Google will automatically provide a rank for many other related keywords. Let me show you some ideas about this.
If you look at these keywords carefully then you will see the competitor has not targeted those keywords on their home but still it ranks for those keywords. This is the way a site can get a lot of traffic if they rank for a single keyword.
Now let's have a look for the long tail keyword "dog obedience training Houston". Here you can see the competitor has not targeted that keyword and the KD and search volume are pretty good.
So, if you want to start a new site on dog training in Houston then you must start with "dog obedience training Houston". Please note that this is a quick example of finding longtail keywords. There might be more low competitive and long tail keywords and you have to do research more by analyzing other competitors' domains.
2. Find Top Competitors for Your Main Keyword (Long Tail)
After you selected your main keyword, you have to find the right competitors to follow and rank over them. Many times those who are ranking in the top ten are not your actual competitors. Because some authority website posts such information in their blog to rank and get traffic to monetize their site.
So, we have got our main keyword "dog obedience training Houston" and now will hand it over to Ahrefs to do further research. Here we will find our main competitors which are ranking on the 1st page.
We can see the top 5 competitors on Ahrefs and also their metrics like how many backlinks they have got from the unique domain, how many keywords they are ranking for, and how much traffic they are getting from Google.
3. How is your competitor using the main keyword?
When you select your main keyword and also got the right competitors, you need to analyze them one by one. So here are facts you must check:
How many times they used the main keyword?
Always follow your competitors to get the best result. But sometimes most of them forget to use the keyword properly. I'm going to share our experience here:
First, use the main keyword in the website tagline. Then use the main keyword one time in the introduction which is good for Google but doesn't use the keyword forcefully. Just make it natural. Then use H-tags from H2 to H3.
Try to use it in the body of the content and then the conclusion. Don't forget to use Meta tags and descriptions also.
Always write more in-depth content than your competitors. If your content length is 2000 words then we suggest you use 3-4 times maximum.
Must use related keywords and LSI keywords
Related keywords are always good to use in content. Because Google will provide a rank for those keywords also. Using Ahrefs you can get a lot of related keywords. Some of the related keywords will be like off leash k9 training, puppy training near me, obedience schools for dogs, etc.
You can ignore the KD and the search volume of these keywords. But we suggest you always pick low search volume and low KD-related keywords.
Note: Don't forget to use related keywords on H-tags also it helps a lot to rank fast on Google.
4. Competitor domain age and authority check
Here you have to check your competitors domain on Archive to check the age and when they are creating content for their sites. Have a look at this Archive result of "puptownhouston.com"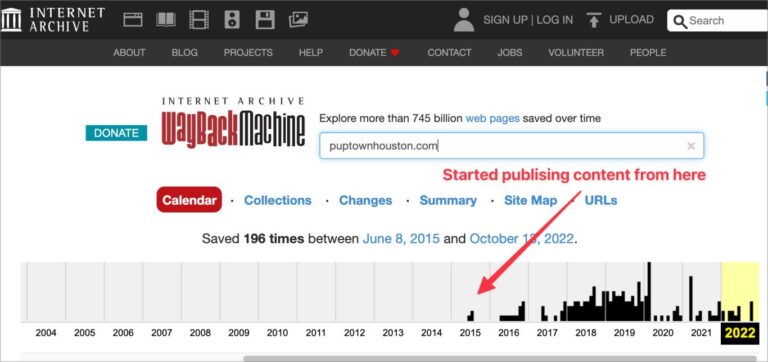 You can see how old this site is. Right! Yes, it is a well-aged domain and it is working since 2015. Sometimes you can see highlighted circle which indicates that the site has posted updated content.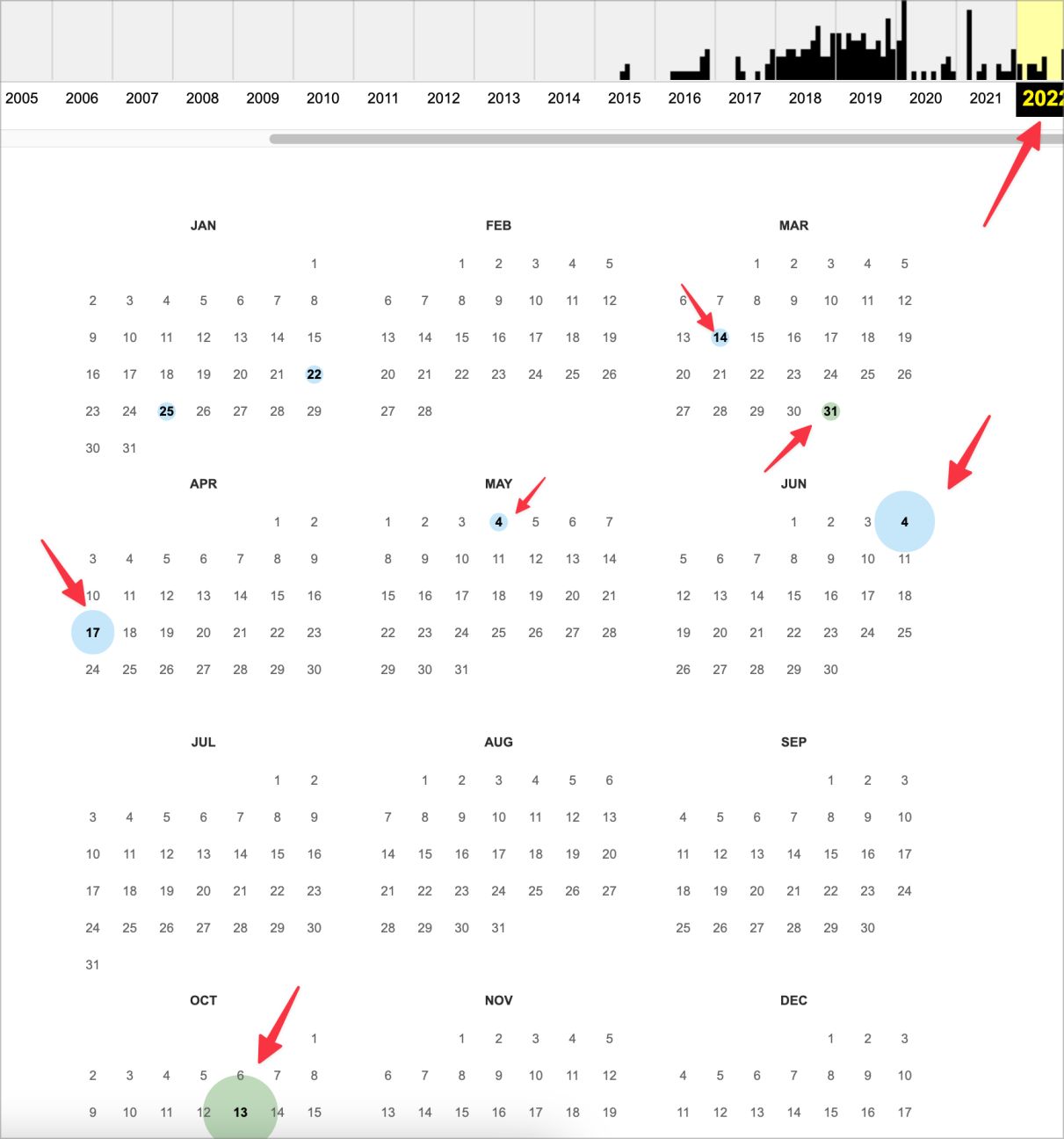 This result will help you to understand how much your competitors strong and when they are updating the site.
To know how many posts have been indexed on Google for this competitor, you have to search (site:puptownhouston.com) for this on Google.

You can see there are around 189 pages indexed on Google. To rank over this competitor you might publish more content on your site by doing proper keyword research and on-page SEO.
Note: Sometimes you can see competitor has very old age and just posted a few pieces of content. Mostly, the sites are built on Expired domain. Expired domain has good age and people take advantage of this.
5. Check content quality and quantity
You have to check the content quality of your competitors who are ranking on the top page. Then go through each content to get an idea of which information they are covering. By this, you can write content on your own or can hire a writer. All you have to do just follow them and provide killer content for visitors, not for Google.
As per a quick research, the competitors provide more valuable content on their blog page https://puptownhouston.com/blog. You can follow this style and create content. It will help to improve your website authority and visitor will trust you.
6. Check out the Website structure
The website structure is also part of on-page SEO. If your site does not structure properly then users are disappointed which will be harmful to your site because does not like such sites.
Always create a light and user-friendly website for your dog training site. You can follow your competitors to get ideas.
An SEO Silo is a method of organizing your website in such a way that it attracts the attention of search engines and helps them better understand what your site is intended to be. Silos can help search engines better understand what your site is about, and also make it easier for them to serve relevant content to users searching for information on that subject.
If you open this site puptownhouston.com, you can see how good the site is. At the top of the site, all the pages are mentioned. It helps to flow the link juice from the home page to other pages.
Similarly for categories like blog section. All the posts that will publish in the blog category, get link juice from the Home page to the Blog category and then Category to a single page or home page.
Here is an example of a Silo structure:
Also, have a look at this image also:
Many people are now more aware of the importance of website speed thanks to Google's update that penalizes websites that take a long time to load. Not only is this frustrating for your visitors, but it also reduces conversion rates and can lead to lost revenue.
As a dog training website owner, you should maintain the page loading time under 3-4 seconds to keep customers happy and ensure they choose your site over competitors' sites. This means proper caching, optimizing images, reducing HTTP requests, hosting on a good server, using compression techniques where possible, eliminating unnecessary redirects, and ensuring all plugins/scripts are updated as needed.
To help you get started on speeding up your site, here are some tips:
1. Use an online tool like PageSpeed Insights, GTMetrix, or Pingdom to measure your website's performance.
2. Check for common issues such as slow JavaScript speeds or excessive CSS file sizes.
3. Update outdated files and plugins (and verify their compatibility with all browsers)
4. Enable gzip compression if available on your server to reduce the size of the transferred response by up to 90%
5. Use a premium cache plugin like WP Rocket or free W3 Total Cache, WP Super Cache, etc.
Here you can see the loading speed of puptownhouston.com on the Desktop which could be improved.
But another one for Mobile is pretty bad. This is a weak point of your competitor and you can do better than this. The score should be at least 80.
Inbound and Outbound links
Inbound and outbound links are a big part of SEO. Inbound links are when other websites link to yours, and outbound links are when you link to other websites. They both help with SEO, but in different ways. We will discuss more on backlinks in the Off-page section.
Meta keywords & Description
Meta keywords and descriptions are important in SEO because they help to identify your website's content for Google. When a user searches keywords on Google, the first result that is displayed is usually the webpage with meta keywords assigned to it. It helps to attract your targeted visitors by showing your website's exact topic.
Meta keywords, titles and descriptions are important for two main reasons
1. It will help to improve the click-through rate (CTR) of your dog training website. If you check this CTR on the Google webmaster tool, it indicates how many people click on a link when it is displayed in search engine results pages (SERPs). Always write a catchy title to gain more visitors' attraction.
2. Meta keywords and descriptions can play an important role in showing up higher in searches related to your main keyword which you want to rank for. For example, if your main keyword is "dog obedience training Houston" then you must put this keyword on your SEO tool and write a description to put on the Meta description option.
Here you can see the Meta Keyword, title, and description of our Amazon affiliate case study page.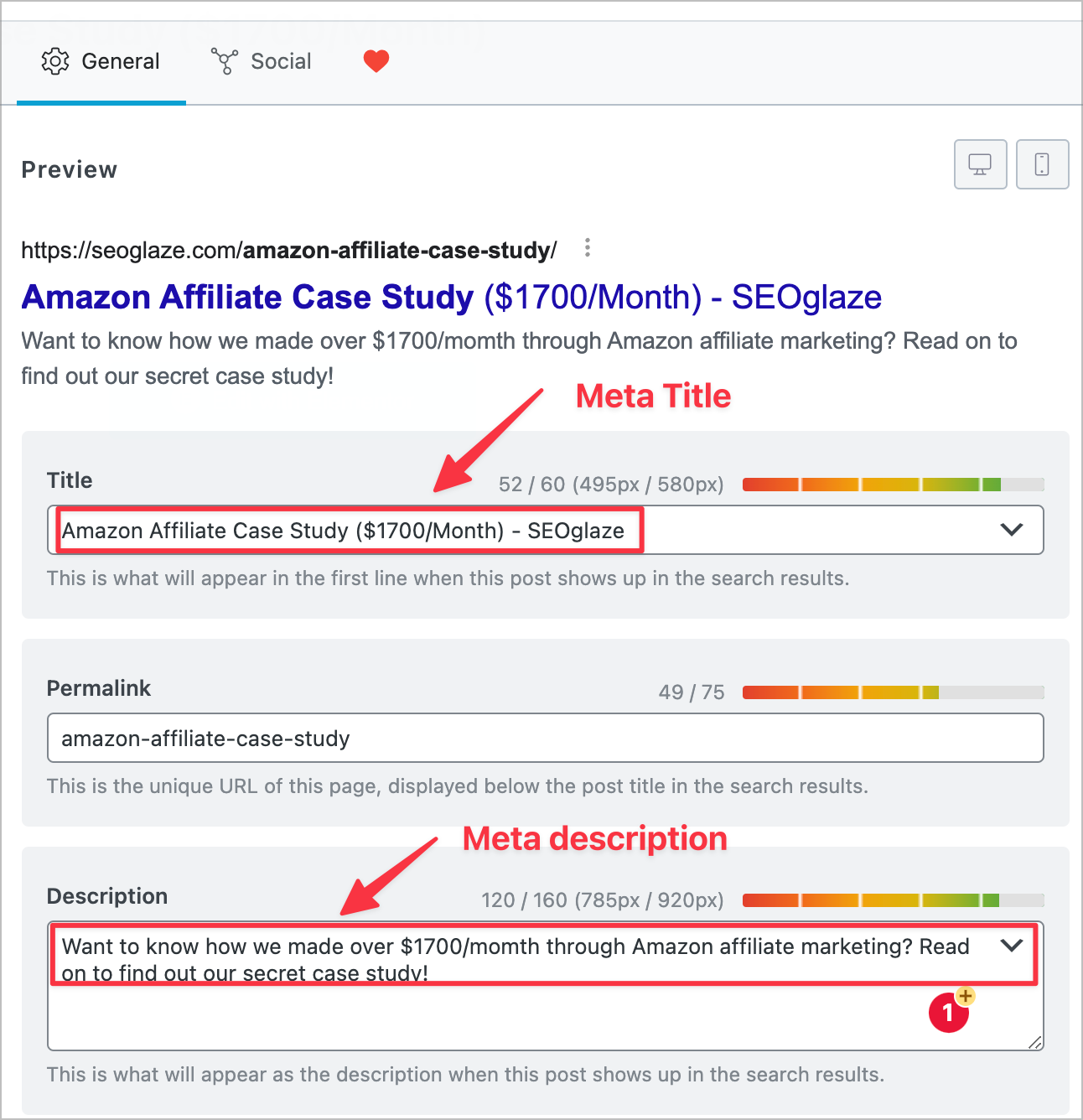 There you can see I used the keyword 'Amazon affiliate case study' in the Meta title and description as it was our main keyword to rank on Google.
Note: Keep in my that the paragraph you will use in the Meta description does not always show on search results. Sometimes Google picks a paragraph randomly from your entire content on that page.
Off-Page SEO - Link Building Process for your Dog Training SEO
Off-page SEO is another process of SEO to increase the ranking of a website by working on other sites that are related to your site. Working on other sites means, you have to promote your site on other sites to get authority. This can be done through the link-building process.
There are many different techniques that you can use to achieve good-quality backlinks. But before going to start your link-building process you have to do a competitors analysis. Because we have to know how many backlinks our competitors have, what is the quality of those links and from where they have got those backlinks.
So, let's do some research on it to get a clear idea.
We are going to check the backlink status of puptownhouston.com on Ahrefs.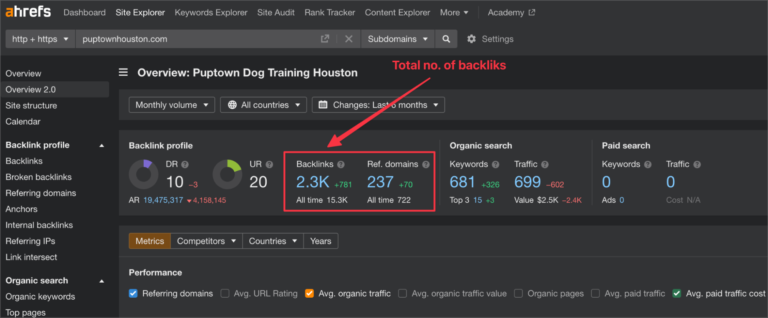 Now there we will try to find the number of dofollow unique backlinks. These are total of 174 unique dofollow backlinks. We can check one by one to check the quality of backlinks.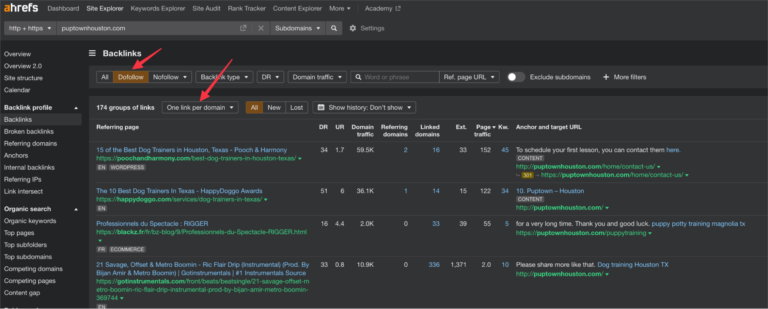 You must look into Anchor text carefully as you will get new ideas of keywords that your competitors want to rank for.
Here are good Anchor texts that are used by this competitor; puppy potty training magnolia tx, Puppy training Humble TX, best dog trainer, https://puptownhouston.com
Anchor text is very important. Because if use anchor text in the wrong way then your website may be hit by Google update.
Always maintain the Anchor text ratio. Like:
Exact-match (dog obedience training Houston) – 30%
Partial-match (Puppy training Houston TX) – 20%
Branded (Your Website Name) – 30%
Naked link (your website URL) – 10%
Generic (also read, check, more) – 10%
Have a look at the Anchor text chart of puptownhouston.com

Anchor text chart of houstontxdogtrainers.com

So, you have to check your competitors and follow which backlink profiles are good as well as anchor text.
Many webmasters get confused by Dofollow and Nofollow links. Yes, dofollow always provides value for SEO rather than nofollow. You have to maintain the ratio of dofollow & nofollow.
Nofollow is also good if you take links from high-authority news sites and get traffic directly to your site.
From Where We Can Get Quality Backlinks?
The best and easy to get quality backlinks is to check your competitor's backlink profile and try to reach out to those webmasters to take links. Most of the links will be foundation links and you can easily create that by using good content.
If you don't have time to manage this work you can reach out to us. We manage all types of SEO tasks.
Social media is one of the most powerful platforms that every business should have. It can be used to build relationships with consumers and generate leads, as well as drive traffic to your website. Social media platforms like Facebook, Twitter, LinkedIn, and Instagram are ideal for promoting your dog training services because this is also a ranking signal of Google.
Additionally, social media can be used to connect with potential customers on a personal level by answering their questions and engaging them in conversation. This helps you build trust and could lead to a sale or other mutually beneficial relationship.
As you can see your competitor has a good number of followers on Facebook.
You also check their content to know what types of content they are posting on social media. You can follow their steps to get a good result.
Google My Business is a great way to manage your dog training business online. It allows you to keep track of all the important details about your company, like stats and reviews, calendar events, and more. Additionally, it provides you with opportunities to connect with customers and promote your business through Google's powerful platform.
If you must use this powerful platform of Google as your competitors do.
Have a look at this. It is a GMB profile of your competitors which shows a good profile that people will trust easily. So you have to follow this and create a similar one to attract targeted customers.
We hope you got complete information about SEO on the Dog training website. Please make sure you do all types of work properly. Because if you do any wrong then your hard work will ruin a business. Like if you pick the wrong keywords then you will need to invest a lot to rank that keyword. You can also get help from us. All you have to do is that just inform us of your issues and will do our best.