Are you looking to do SEO for the tree surgeons website but don't know where to start? Look no further! We are here to provide a step-by-step guide on how to do SEO for tree surgeons. 
In this blog post, we will first discuss On-page SEO, which is the most important factor of SEO for tree surgeons. After that, we will discuss the link-building process and how to improve your website's ranking in search engine results pages (SERPs). 
By following this guide, you will be able to improve the organic ranking of your tree surgeon website and drive more traffic to it! So are you ready? Then keep reading.
On-Page SEO - First Step to do SEO for Tree Surgeons
We will do tree surgeons SEO for two main reasons, first one is to get organic free traffic from Google and the last one is to make sure that our targeted keywords are found when someone is looking for a tree surgeon.
To do on-page SEO for the Trees Removal Service website we will keep 8 points in our mind.
Find long-tail keywords

Know your main competitor

The art of using the main keyword

Competitor domain age

See content quality

Website structure

Loading speed

Meta keywords and description
1. Find Longtail Keywords to do Tree Service SEO
Now we will do research to find long-tail keywords for this niche. First, we will search a short keyword "Dallas Tree Surgeons" on Google. Here we are targeting the Dallas region.
Here we can see our top competitors on Google.
The highlighted URLs are the main competitors of this niche for this particular keyword. The competitors may change by searching different keywords. 
Now pick those URLs and go to Ahrefs to find long tail keywords. As an example, we have taken texastreesurgeons.com to find some good keywords.
Here we can see a lot of low competitive and long tail keywords. You can easily pick these keywords and start targeting your Tree Surgeons site. 
For further research, we are taking one keyword 'Dallas tree removal service' where the search volume is 40 and KD is 10. It may be more or less on different SEO tools like SEMrush.
You might be thinking why we are taking this low search volume keyword. This is a game-changer. Many people start targeting keywords that have a high search volume. But most of the time they take a lot of time to rank on Google. So you have to take a keyword that has low search volume and is less competitive.
The search volume 10 does not mean you will only get 10 traffic per month from Google. You will get more organic traffic from other related keywords. Those keywords will also have a good search volume. So ultimately your visitors will increase.
The competitor is ranking for more than 3000 keywords for their main domain. We hope you got an idea of what we are talking about.
2. Find Top Competitors for Your Main Keyword (Long Tail)
Now search the keyword 'Dallas tree removal service' on Ahrefs.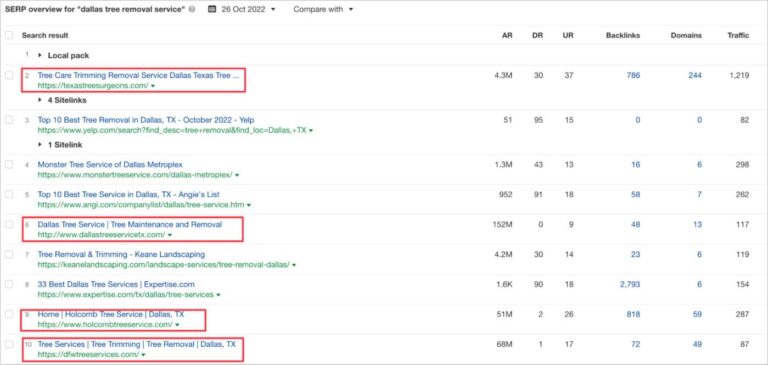 These are the competitors who are ranking on the 1st page of Google. You must check the 2nd and 3rd pages also to get more competitors. The more competitors you have the more chances to get different types of keywords in your niche.
Here we can see the competitor metrics like the traffic and number of backlinks. The fewer backlinks will be easy for us to rank over them. You must follow the number of domains instead of a number of backlinks. Because we will only create unique backlinks and will not create multiple links from a single domain as the value will be the same. We will cover it in detail on the off-page section.
3. How is your competitor using the main keyword?
Not only you will check how your competitor is using the main keyword, but you should also be looking for other related keywords that may be used on your site. By doing this, you can determine what areas of your website might need improvement and have to focus your efforts there. 
Now let's see how our competitor is targeting that long tail keyword "Dallas tree removal service".
It is clear that this site is not targeting that keyword as the main keyword. This main keyword of this site is "Texas Tree Surgeon".
By selecting the long-tail keyword we have minimized competition. This is the first step of SEO and if you pick the wrong keyword then it will be hard to rank on Google.
1. How many times did they use the main keyword?
We know what is the main keyword of your competitor and now we will see where they have used it. 
By following our competitors we can place our longtail keyword on our site. Here are our suggestions to use keywords.
Very first you must target the keyword in H1 as a Title

Always try to use the main keyword in the introduction of the content 

Then use in H2 to H3 tag for one time

Finally use 1-2 times within the body of the content
Note: Never use the main keyword over and over because it will be harmful to your site.
2. Must use related keywords and LSI keywords
When you are ready to write content, it is very important to include such keywords that are relevant to your main keyword. This helps to improve the ranking of your site in search engines and ultimately leads more people toward your content. By combining LSI and related keyword phrases, you can create even more targeted pieces of content that will attract more visitors from Google.
Like if your main keyword is "Dallas tree removal service" then you must use other related keywords like "Dallas tree trimming", "Tree cutting service Dallas", "arborist Dallas", etc.
The age of a domain name is not officially taken into consideration by Google as a ranking factor, it still has an impact on its ranking. If your competitor working on that niche for a long time and publish a good quality then you may need to work more to rank higher.
To check the age of the domain and know the number of content they are publishing on their site then you can visit Archive.org.
The competitor texastreesurgeons.com is working on the site since 2018 and each month they update their content. It helps to know how much strong the competitor is and how many times they update their site.
Here we can see 167 pages has indexed on Google for this site. You must aware of this as you are going to compete with this site. 
To know how many posts have been indexed on Google for this site, type site:texastreesurgeons.com on Google. 
Wait! Do you want to know how you can get a report of those pages where most of the visitors are coming from Google? Ok, here is the step you can follow.
Go to Ahrefs and search for the URL on 'Site Explorer'. Then go to the 'Top pages' option from the left side where you can see a detailed report of pages, which keywords they are ranking for, how much traffic they are getting, etc.
Now you much check those pages one by one to know their marketing steps. You will get a lot of keyword ideas from there also.
5. Check the content quality
Content quality is one of the most important factors when it comes to SEO for Tree Surgeons. If you provide engaging and interesting content, Google will reward you with higher rankings. This helps you to attract more organic clicks and leads from potential customers.
In addition, high-quality content also educates your consumers about products or services that they may be interested in ordering your tree trimming service. It can even convert those visitors into leads or customers who eventually looking for a short answer. So, make sure that all of your content is well-written and comprehensive.
To get an idea about your content, visit your top 10 competitors' site URLs. Where you will get a lot of ideas about which topic you need to cover on your site. You must have a blog category where you should publish informative content.
6. Check out the website structure
When you're designing your website, it is important to make sure that the structure of your pages and the way in which they are linked together is optimized for People, not Google. The layout of your website should also be designed in such a way that each and every section of your website is easily accessible and findable for website visitors.
Here are the 5 Tips for Designing Your Website Structure.
A well-designed and well-developed website is essential for any business, small or large. But designing and developing a website isn't easy, it requires a lot of research, planning, and hard work. If you're not sure where to start, or if you're feeling overwhelmed by a lot of tasks, here are 7 tips that can help you get started. Let's go!
1. Optimize Your Site for People, Not Google
The first step in designing and developing a website is to optimize it for people, not bots. If you want people to be able to find and use your website, make sure that pages are organized into easily accessible sections, and that all the information on each page is easy to find. Your website should look professional and clean while still being user-friendly. The most important part is that you have to find the content gap in a topic which has not been covered by your competitor. Like if you want to write content on "when to trim oak tree" then you must check which information your competitors have not covered.
2. Do Interlinking in the Proper Way
You must interlink to another page. But too many links will make your website slow and can confuse people. To keep visitors on your site for a long time, try to interlink one page to another page. Make sure all links lead to the correct page, especially if you're providing information about products or services that you sell.
3. Utilize Heading Hierarchy
Use headings (e.g., H1, H2, H3, H4) to organize your content. Use a simple, easy-to-read hierarchy that will help people navigate your site quickly. A heading hierarchy helps people find the information they need on your website quickly and easily. Here's an example of how this hierarchical structure might look:
4. Show Breadcrumbs
The breadcrumb is also known as the secondary navigation of the website. It shows a visitor which page of your site they are currently viewing and shows the path they need to follow to reach other pages on your site. Breadcrumbs help people navigate your website quickly and easily. 
5. Include Schema Markup
Structured data is a type of Schema Markup that is used to make the content on your website more search engine friendly. This can include metatags, JSON code, and rich data. But why use structured data? Because it recommended by Google since 2014. Structured data provides important clues to Google about the structure of your content so that it can better understand what is the main theme of your content.
6. Silo structure
Silo Structured is one type of architecture that can help you to optimize your website for search engines. It helps to organize your website pages or posts into "silos" (blocks with specific content). This structural approach makes it easier for search engines to index your pages and make sure that all the relevant information is grouped together.
To get an idea about this. You can check out your competitor page https://texastreesurgeons.com/services/arborist-services. It is clear that the Arborist Services link with the Service page and the Service page is linked with the Home page. In this way, the link juice of Home will follow to that specific page. As a result, the chances of ranking this page for "Arborist Services" is very high. 
This is an example of a silo structure and you can follow this for your Tree Surgeons website.
7. Website loading speed
Website loading speed is one of the most important factors of SEO for Tree trimming websites. If your website takes too long to load, potential customers or visitors will quickly lose interest and search for another site on Google. Not only do slow websites rank lower in SERPs, but they also have a harder time converting leads into customers.
There are many things you can do to improve your website's loading speed. Here are the best tips to improve your website loading speed:
a. Use a Cache plugin: One of the best ways to improve your website's loading speed is to use a good cache plugin. A cache plugin stores chunks of static information (such as images and HTML files) so that websites can load faster. By using a caching plugin, you can reduce the time it takes your website to load by up to 50%.
b. Minimize HTTP Requests: Another way to improve your website's loading time is by minimizing the number of HTTP requests it makes. When a browser request loads a page, it checks with several other web servers in order to locate and load the requested file. By reducing the number of HTTP requests your site makes, you can speed up the overall loading process.
c. Use a CDN (Content Delivery Network): In order to help your website load more quickly, consider using a Content Delivery Network (CDN). A CDN( like Cloudflare) caches web pages and files on servers around the world in order to reduce server response times and improve site performance.
d. Optimize Images for Speed: Images are one of the heaviest elements on a website and can easily slow down an overall loading process. By optimizing your images for speed, you can reduce the time it takes to load pages by up to 30%.
e. Use Basic CSS: Another good way to improve your website's loading speed is by using basic CSS files.
f. Minimize HTTP Requests with compression: Reduce the number of HTTP requests by using compression techniques such as Gzip Compression on web pages and JavaScript files. Gzip compresses text data without losing information about the structure of the file, which can result in faster page loads.
Make sure to monitor your website's loading speed regularly and take action where necessary to ensure that it remains fast and user-friendly!
Here will check how much time it takes to load your competitor site (texastreesurgeons.com). To check it, we will go to Google's Page Speed Insight https://pagespeed.web.dev/.
The above metrics are for Mobile and it is pretty slow to load the home page. This is a weak point of your competitor, your website speed should be high as compare to this.
These metrics indicate the loading time from the PC. Here you also take advantage of improving your website loading speed.
Off-Page SEO - Link Building Process for Tree Surgeons
Backlinks are one of the most important ranking factors when it comes to SEO. By getting links from high-authority websites, your website is likely to rank higher in search engines. This is because backlinks will flow the link juice directly from that authority site to your own site.
In order to get quality links, make sure your website meets all of the following criteria the site should be informative and helpful, offer valuable content, have good design, and be easy to navigate. 
But the question is from where we can get such sites that allow creating links? Yes, we have the best solution for this problem. At the very first you should create the foundation backlinks like Web 2, Profile, Forum, Bookmarks, etc. Make sure the content you use for creating such links are good otherwise you will not good result. 
After creating such backlinks, you have to wait a few weeks to let them index and then you will see the ranking result. Most of the time your keywords will start ranking on the top page if you select the long tail keywords. 
What should we do if the site still ranks on the 2nd page? Well, here is the game. You have to start competitor analysis and gather all the backlinks from where they have got backlinks.
You can see how many backlinks have been created by your competitor. All you have to do is follow those backlinks one by one to create backlinks in the same way. 
Some most powerful links are Guest posts, Press releases, and Niche edit links. These are all contextual backlinks and provide the best result rather than foundation backlinks. 
Note: Before going to start your link-building project, make sure you have created an Anchor text chart. Because it is also an important factor. If you use your main keyword many times as Anchor text then it will be harmful to your site. So you have to maintain the anchor text ratio. 
Here is the ratio that we follow:
Exact-match – 30%
Partial-match – 20%
Branded – 30%
Naked link – 10%
Generic  – 10%
Social signal refers to a website's social media presence and is one of the most important factors that search engines take into account when ranking a site. A strong social media presence can help improve a site's visibility and organic reach. 
You should follow the social media platforms of your competitors to get an idea of what types of information they are sharing. You must create good content for social media like Facebook, Youtube, Reddit, etc.
Now that you have read the full article, are you going to follow those steps?
Do make sure to keep a regular eye on your website's performance and keep adding new content to improve its visibility on Google. A good start will be scheduling an audit from a reliable SEO company like SEOglaze.
Also, it doesn't matter whether you are a Tree Surgeon or not, the regular practice of SEO has made it possible for one to start with a long tail keyword that ranks high on Google fast. You just need to understand the right keyword and write content around them. In case you are still confused about what types of keywords work well for your business, then be sure to contact us.
In case you loved reading this post, we would love your comments below!